Daily Archives:
July 27, 2012
ትላንት ፕሮፌሰር አለማየሁ ገብረማሪያም ከአሜሪካ ድምፅ ራዲዮ ጋር የጠቅላይ ሚኒስተሩን መያዝ እና ምትካቸውን አስመልክቶ ቃለ ምልልስ አድርገው ነበር። ዛሬ ደግሞ ተወዳጇ ዞን 9 ብሎግ "ባልቻን ፍለጋ" በሚል አንድ ወግ አስነብባናለች።
ሁለቱም እንደጠቆሙት በህገ መንግስቱ ላይ ጠቅላይ ሚኒስትሩ ቢሞቱ ወይም ደግሞ በሆነ ምክንያት "ከጥቅም ውጪ" ቢሆኑ ማን ይተካቸዋል? እንዴት ይተካሉ? ለሚለው ጥያቄ ህገ መንግስቱ መልስ የለውም።
ህገ መንግስታችን አንቀፅ 34 ስለ ጠቅላይ ሚኒስትሩ የስራ ድርሻ በአንድ ገፅ ተኩል ያህል ይዘረዝራል። (በቅንፍ እናደንቃለን፤ ጠቅላያችን ይሄንን ሁሉ ኖሯል ሃያ አንድ አመት ሙሉ ሲሰሩ የኖሩት…?  መድከም ይነሳቸው እንዴ…!? አንዱ ስብሰባ ላይ ክልትው ብለው አለመቀረታቸውም በእውነቱ ብርታታቸውን ያመለክታል!) Read the rest of this entry →
By VOA: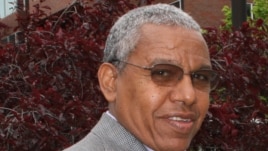 Ethiopia does not have a firm leadership succession plan if Prime Minister Meles Zenawi is no longer able to head the government, according to a former defense minister.
Seeye Abraha,
who worked with Meles on the ruling party's executive committee but who is now a member of the political opposition, said Tuesday that uncertainty and anxiety is growing over the nation's leadership during the prime minister's so-far unexplained absence. He blamed it on the country's one-party electoral system and Meles' one-man-rule style of governing over the past 12 years.
Read the rest of this entry
(c) 2012, Bloomberg News.
ADDIS ABABA, Ethiopia — An Ethiopian court banned distribution of a newspaper that published front-page articles about Prime Minister Meles Zenawi's health and protests by Muslims in the capital, Addis Ababa, the government said Thursday. Read the rest of this entry →