Ethiopia Muslims wonder what life after PM Meles will be like
While there is still too much uncertainty surrounding the future of Ethiopia's political scene, Muslims in the country have begun to think of a future post-Prime Minister Meles Zenawi.
Zenawi, who has been absent from public life for a month, continues to sprout controversy over his health situation. The government recently lashed out at media, calling the campaign a "fabrication" when they reported the longtime PM was on his death bed.
Still, whether or not the 57-year-old returns to public life is the all-important question for many Ethiopians, especially the Muslim community, which amounts for roughly half the country, although statistics are hard to come by in the East African nation.
"We are looking at this current situation with an opportunity to bring together all segments of Ethiopia together in order to build a better country," a group of Muslim students, who refer to themselves as "concerned Muslim Ethiopians," told Bikyamasr.com.
"As Muslims we would like the opportunity to work with Christians and others to help make Ethiopia the country it can be by developing both our culture and politics in a positive way," the students added.
Over the past two months, there has been a series of violent attacks on Muslims at mosques, which has sparked concern that Islamic conservatism could make way for violent extremism.
But the students have been quick to point out that they have no struggle with the Christian community, arguing instead that it was the government attempting to provoke a violent response.
They said that the situation revolving around Meles' health needs to be resolved in the near future in order for Ethiopia to move forward.
"We all want a better Ethiopia and our Christian brothers and sisters also feel the same. We are a united country in our belief that justice and freedom can be achieved," the students said.
Reports across East Africa continue to ask the question: "Where is Meles?" on a daily basis, even as government officials in Ethiopia try to play down his absence, saying the long-time leader is in good condition.
Somaliland Press said, "Dictator Meles Zenawi has disappeared from public view for several weeks now.
"He was last seen in public on June 19 at the G20 Summit in Mexico. His disappearing act has provided more grist for speculation and caused pained and grimaced official obfuscation," in a report questioning the rulers' whereabouts and whether he was able to return to his position as prime minister.
Late last week, the Ethiopia government attempted to allay fears or worries that the 57-year-old PM was in poor health.
They called the rumors of Meles Zenawi's health a "campaign of fabrication."
In an interview with the state-run Ethiopian Television (ETV), information minister, Bereket Simon, said Zenawi's health has improved during the past few days following treatment in Europe.
"The Prime Minister's health is now in much better condition after his treatment" he said adding, "he is taking some rest."
Simon's address on state television follows an a broadcast on exiled Ethiopian TV broadcaster ESAT on Monday, claiming Zenawi had died, citing reliable sources in the International Crises Group (ICG).
However, ICG dismissed the claims, saying it has no direct knowledge of Zenawi's health condition.
Simon said the latest reports are part of opposition "campaigns of fabrications."
He said "those forces are fabricating speculations about the health of PM Meles to the extent of quoting international organizations like ICG, something the organization denied."
The last time Zenawi appeared in public during the G20 summit in Mexico in June.
Ethiopian activists continued their online calls for change in the country, with the hope the government will ease its decades long power hold over the country and its political future.
"We definitely are hopeful that this recent episode concerning Meles [Zenawi] and his health will wake up the country that we are the future of Ethiopia," a student activist in Addis Ababa told Bikyamasr.com on Thursday morning.
"This country has been led by a man who continues to oppress us all, Christians, Muslims and others, so it is time we take our own destiny in our hands," he added, asking not to be named due to the sensitive nature of referring to Prime Minister Meles Zenawi's health.
But government officials have reported that Zenawi is currently in "good condition and recuperating" after he was reportedly gravely ill and on his deathbed.
Newspapers who reported the PM's health controversy were met with massive crackdowns from the government, highlighting the struggle for freedom of speech in the country.
Simon, a government spokesman, speaking to BBC News, declined to give specific details about Meles' whereabouts or what he is suffering from.
Bereket had earlier been quoted as saying the prime minister, 57, was on holiday.
Zenawi has ruled Ethiopia for more than two decades and many activists in the country have called for his ouster in order to push the country forward.
Speculation began when he missed last month's African Union summit, held in the Ethiopian capital.
The youth have been the most outspoken towards change in the country.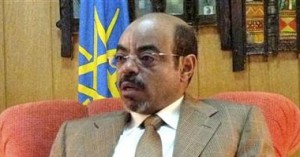 Ethiopian PM Meles Zanawi appears to be on his way out as controversy surrounding his health continues.
"It will definitely be interesting to see how we all react," said one student activist, who asked not to be named due to the security crackdown on those speaking about the PM's health.
The activist told Bikyamasr.com that "Ethiopia will be better when we are all, Christians and Muslims work together to build a country based not on one group dominating the other, but on the idea that we can have a solid country for all Ethiopians."
Posted on August 8, 2012, in AFRICAN NEWS, ETHIOPIA ENGLISH, WORLD NEWS and tagged Advocacy Organizations, Amharic language, Amnesty International, Domestic worker, Eritrea, Ethiopian people, Ethiopians, Facebook, Obama, Omo River, Oromo Liberation Front. Bookmark the permalink. Leave a Comment.